The double materiality principle has come to the forefront of European Union discussions on sustainability and business over recent years and raises an important question: Should a business or an investment fund care only about how ESG issues impact its business? Or should it also consider – and report on – how its operations affect people and external ecosystems?
SCOR has long held this principle of double materiality at the core of its business operations – even before it was named as such. Indeed, SCOR employees were at the forefront of these conversations with the European Commission's Technical Expert Group on Sustainable Finance in 2018 when the term "Double Materiality" was coined in an effort to qualify the impact of businesses on the deterioration of natural assets.
It is in SCOR's operating nature to consider the impact of its business on the environment and on society. Financing the sustainable development of societies is central to SCOR's purpose, leading the Group to always consider the impacts of its decisions on people and ecosystems. By working to boost the ability of future generations to meet their own needs, SCOR actively contributes to a more sustainable world and, in return, protects its business against damages over a much longer time horizon. This is evidenced by the exclusions of environmentally unsound businesses such as coal and tobacco, the Group's careful attention to its environmental footprint, its net zero pledge, and other important ESG considerations that determine how we do business and with whom.
SCOR'S Double Materiality Analysis
Implementing the double materiality approach, SCOR regularly identifies and reevaluates the main sustainability matters affecting its business from both the financial perspective and that of the impact for stakeholders. This double materiality analysis is the basis for SCOR's Theory of Change – how our business acts for the transition to a better tomorrow.
Outside-In Risks and Opportunities
The materiality analysis identified human capital management, climate (physical and transition risks), and nature and biodiversity as the key sustainability matters and non-financial risks for SCOR when it comes to market expectations and strategic ambition. These are also where risks of tomorrow stand, leading to new business opportunities. These results were cross-checked using other mechanisms for identifying risk factors (e.g., megatrends, emerging risks, and operational risks).
Inside-Out Impacts
The key sustainability areas in which SCOR can have the greatest impact on external ecosystems were identified as human capital management and climate, as well as health. Across all the factors analyzed, SCOR's underwriting strategy was found to have the greatest potential impact and, to a lesser extent, our investment strategy, expertise, and product innovation. Together, these two perspectives inform and shape SCOR's approach to sustainability and enable us to take a holistic approach to embedding these considerations and leveraging their opportunities along the entire value chain.
SCOR'S Theory of Change and Impact Framework
With all this in mind, SCOR's Theory of Change aims to support the transition to a better tomorrow while benefitting from opportunities stemming from this transition. Underpinned by SCOR's raison d'être – combining the Art and Science of Risk to protect societies – the Theory of Change recognizes the need to act now to improve future resilience. The nature of SCOR's business is to stay alongside the real economy while combining our own actions to reduce negative impacts, engaging with our clients and investees, and effecting positive impact to foster the transition. For climate, this can lead to concrete reduction of GHG emissions in the atmosphere and contribute to reaching net zero by 2050 in line with the Paris Agreement.
SCOR's makes it a priority to contribute to international goals regarding climate and biodiversity, as set out in the Paris Agreement and the Convention on Biological Diversity. SCOR will continue to embed sustainable practices into its P&C and L&H insurance businesses, as well as its investments and operations.
The identification of three top Sustainable Development Goals by SCOR employees (page 30) is key to determining how we move forward and where we place our focus. Our sustainability materiality analysis will help us to follow a well-defined path, centered on the areas where we can contribute most to our raison d'être.
Guiding Principles
SCOR's Theory of Change, which will guide our action across all business lines, follows three guiding principles:
SCOR will strive to reduce the negative impact of all its activities.
Operating alongside the real economy, the Group will engage with our partners, clients, and investees to support their own journey toward resilience.
SCOR will support the transition to a better tomorrow while benefit ting from the opportunities stemming from this transition.
Concrete Action – Now
SCOR's focus is on taking concrete action based on reliable facts, thereby laying the foundation for a structural shift in the way climate change risks, and more generally the sustainability imperative, are managed. Our Theory of Change is intended to optimize the positive impacts of our strategies as we work to counter the effects of climate change. These actions are concentrated in three main areas:
Underwriting activities: Actions may involve exiting certain risks or sectors, such as coal, oil, and gas. We provide our underwriters with complete risk assessment grids to deploy the positive effects of insurance and risk-managed behaviors, both in our own activities and through our engagement and influence in the broader (re)insurance underwriting business.
Invested assets: SCOR has a longstanding contribution to financing the transition to a low carbon economy and the green bucket amounts to 8.5% of invested assets as of end of December 2022. In parallel, and to deliver on our commitment to net zero through our Theory of Change, SCOR has set decarbonation targets for our invested assets portfolio and has joined several coalitions to engage with our investees on climate as well as on biodiversity.
Operations: SCOR strives to offer employees a comfortable and sustainable work environment. We have reduced the carbon footprint per employee by 55% (compared to 2014 baseline) and continue to implement environmental management systems wherever possible.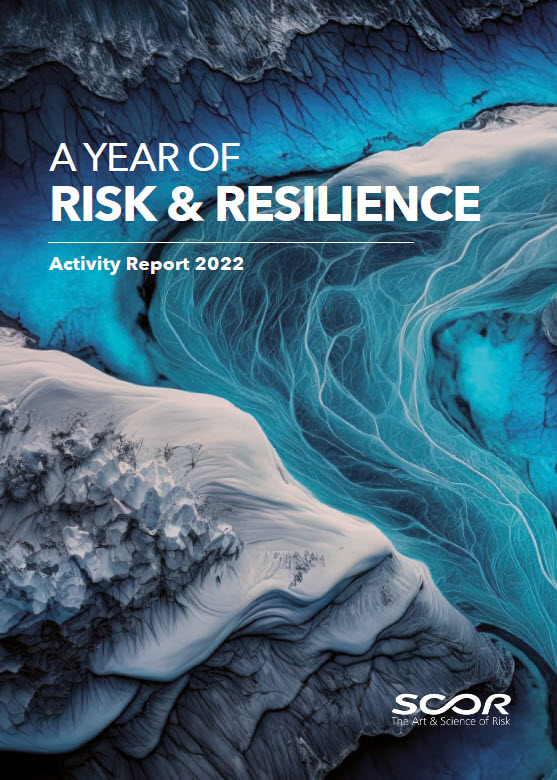 Learn more in SCOR's 2022 Activity Report