Ventures 2.0: the next three years
Three years after launching P&C Ventures, we now launch the second cycle of our venture activities. In this post, we provide a summary of our activities to date and explain the SCOR Ventures strategy and approach for the next three years. 
March 10, 2021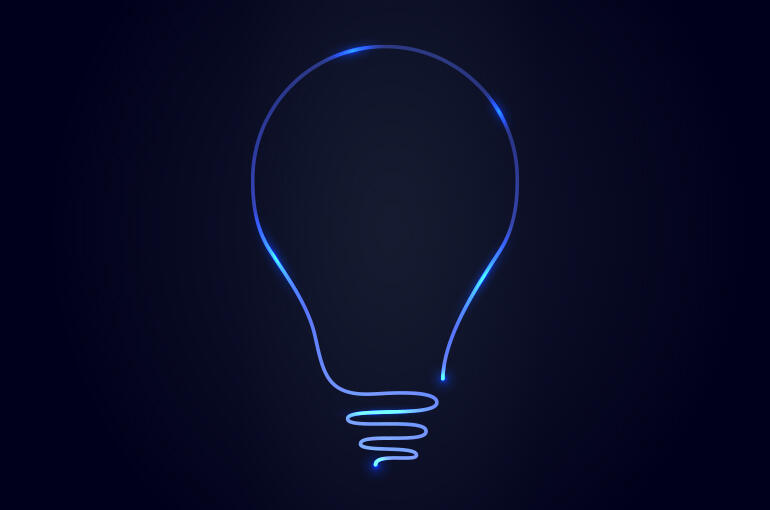 Ventures 1.0
SCOR P&C Ventures launched in the fall of 2017. We wrote about our strategy here. Since then, following our strategy to build the insurers of the future, we have developed a repeatable playbook leading to the formation of a portfolio of partnerships and investments with exceptional founders.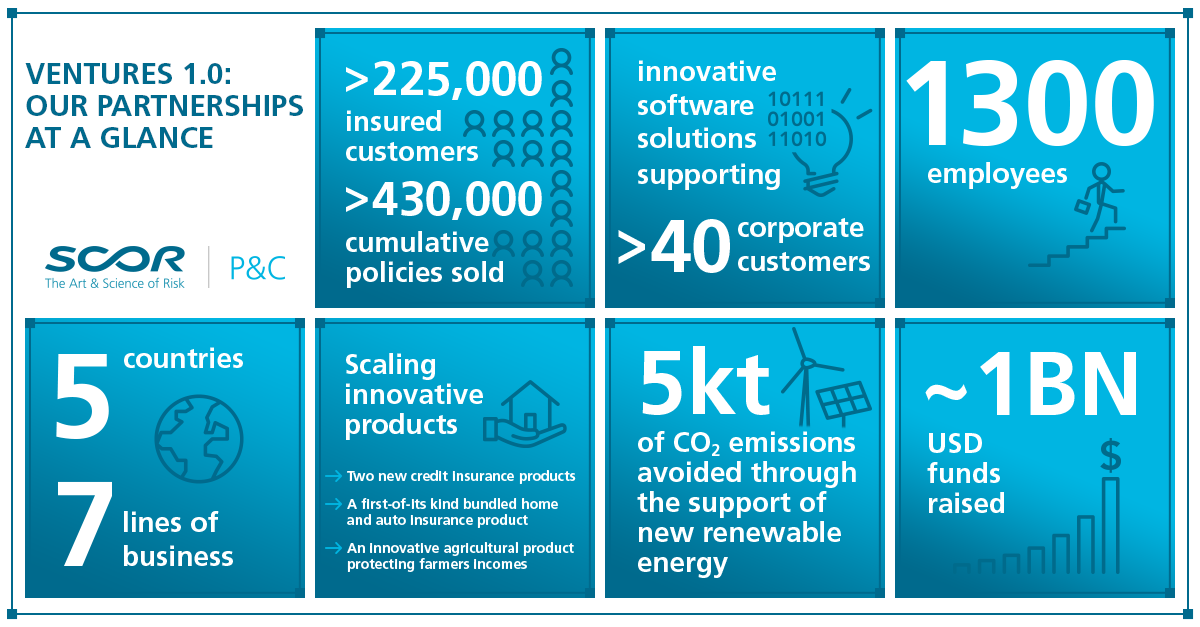 None of this would have been possible without the relationships we have built up with founders, top-tier venture capital firms, angel investors, other CVCs and (re)insurers, lawyers, and industry experts. Similarly, both our Ventures team and the companies we work with benefit from a broad array of supporters and champions across the SCOR platform. We've introduced 50 insurtechs companies to colleagues at SCOR working on internal and external projects in the last year alone.
Insurtech in 2021
The insurtech ecosystem has changed significantly since 2017. 2020 insurtech investment saw almost three times as much capital invested and almost double the number of companies funded, with slight variations depending on which source one follows. If anything, these numbers are conservative: we track a significant number of unreported financings at Seed and Series A stage, especially outside of the US. New companies continue to emerge at great pace: our own dealflow in January was 4X January 2019. CVC plays an even larger role than expected: the percentage of rounds with strategic participation has nearly doubled in the past 5 years to 48% (per FT Partners).  The expected and necessary proof points of M&A activity (AssuranceIQ, Bold Penguin, CoverWallet) and public market appetite (Lemonade, MediaAlpha, SelectQuote) have emerged.
We expect the pace of growth to continue in 2021-2023, fuelled by seven engines:
Emergence of insurtech "alumni": New companies are being founded by top-tier talent who spent the last few years working in senior positions for successful insurtechs, gaining operational expertise before launching their own ventures and now seeking capacity / investment from trusted partners.
 
New insurtechs can take shortcuts: Some of the mistakes of the past can be avoided. Through Ventures 1.0, we have seen a massive cross-section of companies across multiple business lines and in most global markets. We are uniquely positioned to identify winning activity, share the accumulated experience and insights gained from SCOR's global technical experts, and help new companies avoid pitfalls.
 
Value chain optimization has just begun: Increasing appetite from many insurers to implement new SaaS solutions at scale to respond to new competitors and customer demand. In our view, the onboarding of latest generation technology has barely started. 
 
Insurtech is expanding geographically: An exponential increase in activity and investment in areas outside of North America and Western Europe, alongside a continuation of the long-term growth in activity in more mature markets. Despite the interest in insurtech since 2015, insurance globally remains underinvested vs. other areas of fintech: online lending, payments, FX, digital wealth management, etc.  On a market cap basis, the US public insurtechs are only ~3% of the capital of all US insurers, whereas public fintechs are >10%.  In fast growth markets, we are particularly excited about opportunities in India, LATAM, and South East Asia. 
 
Ongoing public market and M&A activity: We expect to see a burst of consolidation in the sector for both MGAs / carriers and SaaS companies, including MGAs / carriers executing shell acquisitions to expedite geographic expansion and software businesses combining to form category winners. 
 
Distribution 2.0: Insurance-as-a-service models are enabling insurance to be embedded in adjacent platforms (e.g., mortgages, dealerships, gig economy); "Plaid for insurance" style middleware is starting to enable more customized and efficient quoting. 
 
Insurtech is not just insurtech. SaaS and IoT are creating opportunities at the intersection of insurance and industry 4.0. We expect specialty and commercial insurance will benefit most as insurers continue to explore partnerships with tech-driven industrial IoT players to develop products and strengthen capabilities.
Ventures 2.0: 2021-2023
One of our core beliefs is that CVC activity fails when "strategy gaps" emerge. A fund can produce top quartile returns but for larger corporates cash returns may be immaterial when amortised over the 7-10 years taken for liquidity. SCOR's strategy calls for an acceleration of digital transformation through strengthening digital capabilities and incorporating innovative solutions across the (re)insurance value chain, from improved underwriting analytics to claims automation. SCOR also aims to leverage tech and digital solutions to expand insurability and develop new products to close protection gaps.
 
Our investment thesis is driven by the SCOR strategy:
Thesis 1: we invest in the 'Insurers of the Future': tech-driven underwriting companies (MGAs, carriers) that offer multiple points of digital and business model differentiation. We provide direct access to SCOR expertise and our global network to help portfolio companies scale and/or access (re)insurance capacity. With a proven track record of supporting innovative underwriting propositions across multiple lines of business, we understand program structuring, underwriting, pricing and distribution and thus have the capabilities to optimize partnerships between insurtechs and business partners.

We predominantly invest at late Seed / Series A. We are class of business agnostic and have partnered with companies across a broad variety of personal and specialty lines.
 
Thesis 2: we invest in software solutions that benefit SCOR and/or our clients. We provide a broad understanding of the interests and pain points of insurers across the world, and the potential to connect companies with insurers through SCOR's client services initiatives.

We predominantly invest later stage vs. Thesis 1 (typically Series A-C). We prioritise companies:

developing data, tools, and methods for obtaining, understanding, pricing and transferring large portfolios of pre-aggregated risks, high-value individual risks such as energy facilities and construction mega-projects, and MGA/coverholder business
delivering economically valuable additional services offering a visible outcome which can be used to boost client management. Focus areas include front-end (e.g., underwriting & pricing) policy administration, modelling, risk analytics, and claims
In 2017-2019, most opportunities would fall in thesis 1. More recently, by contrast, we have seen more founders building tech, tools and SaaS companies than MGAs and carriers.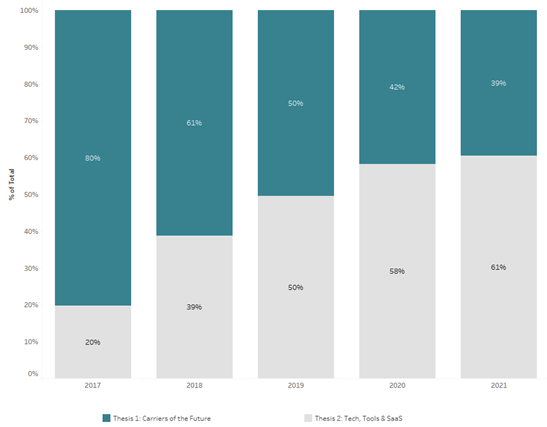 Ventures 2.0: how we will operate
Integrated in the wider SCOR business: SCOR's core business has experts in nearly every country, line of business and functional area. Direct access to the entirety of SCOR's capabilities brings unique added value to our portfolio companies  
 
Mandate: global but focused on key markets in North America and EMEA, with selective deployment in APAC, South Africa, and South America. Most of our deaflow in the last three years came from North America and Western Europe: we are now actively looking to partner with companies in other territories as well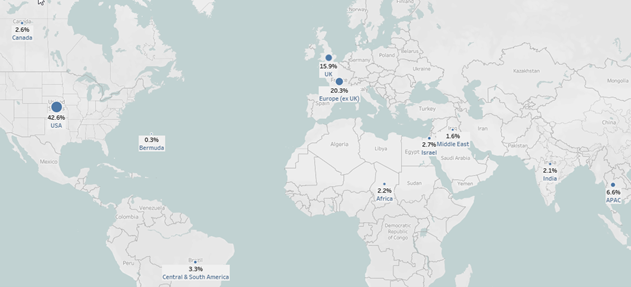 Team: we will soon be a team of six. In the US, we are delighted to welcome Meghan Loose, joining us this March, with a further new hire to be added later in 2021. In APAC, we are now joined by Randy Liu
 
Ownership: we typically seek 5% to 15% ownership at first investment, which may include a board seat (we have led or co-led half of our investments to date). Our investment stake is intended to make SCOR a meaningful contributor to the company but leave founders room to manage their cap table. We look for a long-term investment and / or commercial relationship. We do not seek a fast exit, nor do we invest with the ultimate intention of acquiring our portfolio companies
 
Deployment rate: we will accelerate our approach to deliver 4-5 deals a year in 2021-2023. This is ~1.5-2x our deployment rate over the last four years and represents a material commitment to upsize our Venture activities.  
 
Partnership approach: we are active supporters of the companies we work with, assisting with technical input, recruitment, capital optimisation and more. The material growth of many insurtech MGAs and carriers has led to increasing demand for (re)insurance capacity; SCOR is a transparent, long-term partner. Insurtechs in SaaS and services segments, meanwhile, have benefitted from SCOR's long-standing client relationships, while SCOR benefits from bringing knowledge, links, and expertise regarding services with genuine value to our clients. We bring value to our portfolio companies by connecting them with other partner companies, as well as with founders and distribution leads in our network. 
 
Life and Health Ventures: we intend to continue to expand our collaboration with our colleagues in Life and Health Ventures, led by Bernd Mueller and Richard de Sousa
Ventures 2.0: how to reach us
You can contact us via LinkedIn, through our website, or email. We are committed to offering transparency and accessibility for all founders, regardless of whether we have already begun to work with them. We welcome cold emails, approaches from first-time founders, and the opportunity to build relationships and share insights with founders whose businesses may not yet be at the right stage for us.
We are excited to work with you!