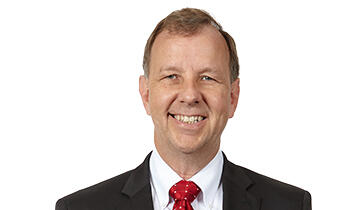 Bill Rooney
MD, MBA
Vice President, Medical Director
Dr. Rooney's is a member of the Health and Wellness team at SCOR tasked to help policyholders improve their health and avoid preventable deaths. Previous work at SCOR included facultative case review work, researching and updating the SOLEM underwriting manual, researching and writing articles for a variety of SCOR publications and more. He is a frequent speaker at industry events, with 18 years of experience as a medical director in the life and health insurance industry. 
Dr. Rooney earned a medical degree from the University of Missouri-Kansas City, completed his family medicine residency in the Kansas City area, and later obtained an Executive Master's in Business Administration from Benedictine College in Atchison, Kansas. He was awarded the Lawrence E. Hart Eagle Award for Academic Excellence. 
Board certified in Family Medicine with the American Board of Family Medicine, Dr. Rooney was elected to be a board member of the Kansas Academy of Family Medicine, was president of the Ozark Medical Society and president of his 44-member private practice group prior to becoming a medical director.
More recently he has served as president of the Midwest Medical Director's Association and currently is the Chair of the American Academy of Insurance Medicine Education Committee.
 
"The SCOR H&W team is dedicated to bringing innovative and impactful mortality-improving ideas to the life insurance industry. There is a tremendous opportunity for life insurance companies to partner with their policyholders and assist in managing mortality risk. SCOR strives to assist. I am thrilled to be on the team. "