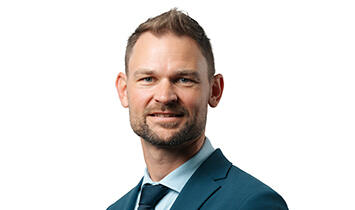 David SUETTERLE
Chief Digital and Innovation Officer L&H
David Sütterle is a senior professional with in-depth knowledge of the insurance and reinsurance sector. He possesses more than 20 years of experience driving strategy and innovation and managing high-performance teams.
In his current role as the Life & Health Chief Digital and Innovation Officer at SCOR, David spearheads the development of business and innovation strategies with key focus to accelerate SCOR's digital solutions portfolio, which includes ReMark, SCOR's digital solution provider, and its accelerated and predictive underwriting engine suite – Velogica, risk automation solutions, engagement solutions and product marketing solutions. He collaborates with business functions across SCOR to help clients thrive in a dynamically changing environment, preparing for the future with technology and innovation and developing products and solutions that create impact.
During his tenure at SCOR, David has led global business development, strategic partnerships and client management initiatives which included teams from both Property & Casualty and Life & Health divisions. His passion for empowering teams and leveraging emerging technologies fosters cross-functional collaboration and enhances client, partner, and stakeholder relationships. Additionally, he managed the global financial and capital division of SCOR's L&H portfolio.
Prior to joining SCOR in 2015, David worked a decade for another global tier 1 reinsurance group in strategic and financial managerial functions.
David earned a degree in economics and business administration from the University of Applied Science Cologne and is a Certified International Investment Analyst.
"Working in an industry that supports people during the most challenging and difficult times of their lives is not just a job – it's a privilege and a responsibility. Our efforts to leverage data, technology and innovation don't just drive business but support families, making a profound impact when it's needed the most."