Devoted to the control of major risks, SCOR's second Datathon is a resounding success
May 25, 2021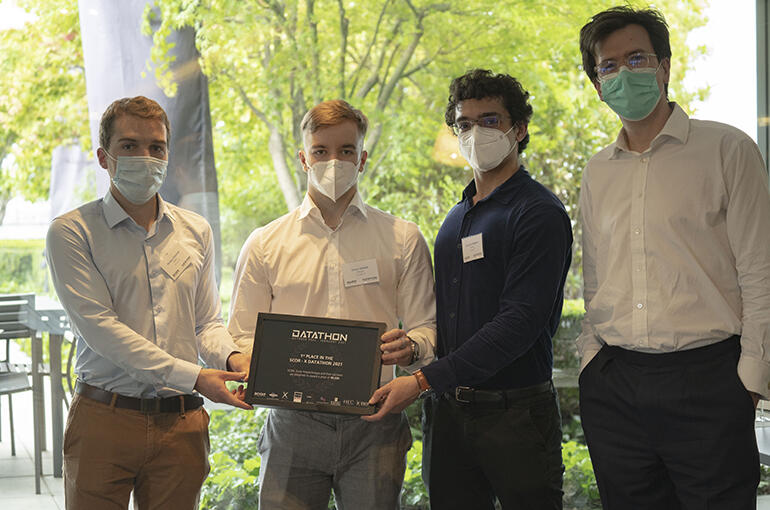 70 students from France's top 'grandes écoles' and business schools used data science and artificial intelligence tools to work on the control of major risks.
For the second consecutive year, SCOR has partnered with Ecole Polytechnique to hold a Datathon in France. This year, the challenge was also extended to other leading graduate schools such as ESCP, ESSEC, Centrale Supelec, Telecom and HEC. With 70 students taking part throughout the competition, the challenge was a resounding success and extremely dynamic from start to finish.
The topic at hand was the control of large risks, and more specifically the calculation of insured premiums. The students were given data on SCOR's risk portfolio and claims history, and asked to create predictive models using new technologies such as Data Science and Artificial Intelligence. They were also encouraged to be creative by incorporating any external data they deemed relevant into their models (such as macroeconomic indicators by country, financial indicators, etc.), an opportunity that the best three groups really put to good use. The most successful models made the most of this additional data, opening up new avenues for SCOR to enrich its own models.
Data is a key asset. At SCOR we attach great importance to both the quality of the data we use in our models, and the underlying modelling itself. In line with the objectives set out in "Quantum Leap", we have been exploring and using market technologies such as Deepkube (developed by Berexia), which has sped up the work of qualifying data, assessing its quality, and transforming it in order to feed our models.
Another salient feature of this second Datathon challenge was the fact that the winning project was led by a multidisciplinary team of students from different institutions. This is a perfect illustration of the complexity of risk modelling, and how a "black and white" approach to data does not fully capture the complexity of reality.
The whole experience was highly instructive, and has reaffimed SCOR's intention to hold a third Datathon with Ecole Polytechnique next year.