Falls are increasing among older adults
Insurers search for health and wellness solutions that can benefit aging policyholders
June 27, 2022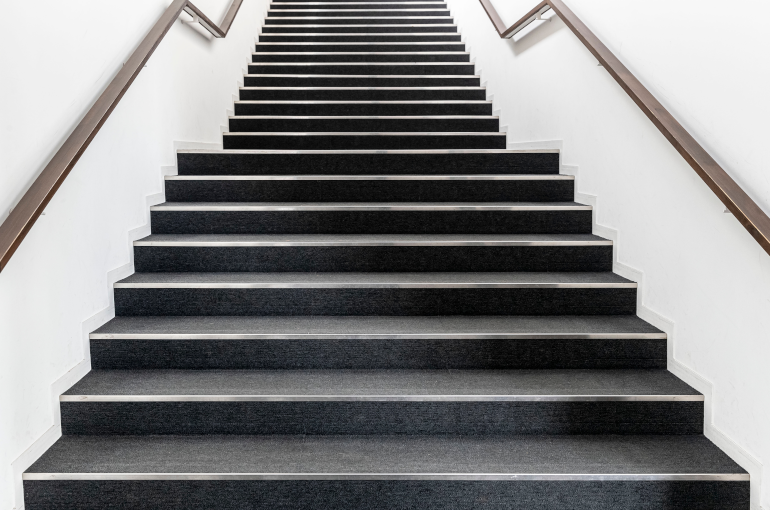 The world's population is getting older. According to the Worldwide Health Organization (WHO), we can expect to see the proportion of the world's population over age 60 nearly double by 2050.(1)  Meanwhile, the number of serious falls reported worldwide is surging and already accounts for an estimated 684,000 deaths annually. An additional 37.3 million falls are severe enough to require medical attention and are responsible for "more years lived with disability than transport injury, drowning, burns and poisoning combined," according to the WHO.(2)
Where these two trends intersect – an increasing aging population and an increasing rate of falls – is a largely untapped opportunity to create a solution with the potential to improve millions of lives. Falls among the elderly are largely caused by modifiable risk factors and a solution developed to address these could have a huge impact on both morbidity and mortality.
A growing problem
According to the WHO, falls are "the second leading cause of unintentional injury death, after road traffic injuries."(3)  But even when a fall doesn't lead to death, it can cause serious complications such as broken bones and increased anxiety, which can have a huge impact on morbidity and quality of life. Fear of a fall can lead to a less active lifestyle, which in turn reduces physical fitness and increases the likelihood of a fall, creating a cycle of deteriorating health and isolating behaviors.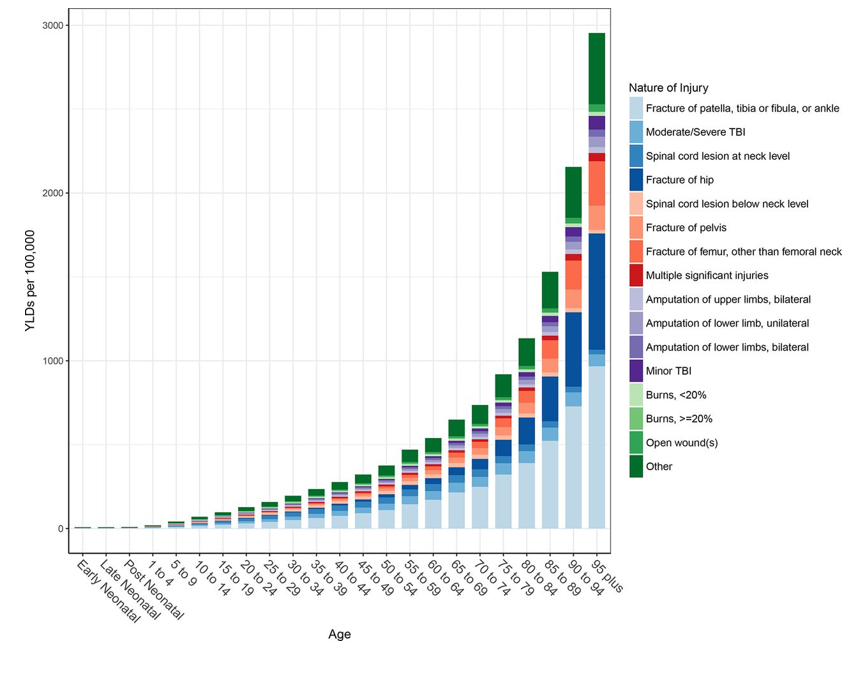 Figure 1 - Age-specific nature-of-injury composition of falls globally. TBI, traumatic brain injury; YLDs, years lived with disability.(4)
Not only are falls most common among adults 60 and older, but they are particularly concerning because older individuals' deteriorating health, reduced reflexes and reaction time, brittle bones, and reduced muscle tone and physical fitness often result in more severe falls with longer recovery times. However, according to SCOR America's Medical Director Dr. Bill Rooney, this doesn't mean that falls are an unavoidable part of aging. Because so many of the risk factors are modifiable, many falls can be prevented.
Common risk factors include:
Poor eyesight or cataracts
Balance problems 
Certain medications or taking four or more medications(5)
External or environmental factors such as loose floor rugs, poor lighting, etc. 
Dr. Rooney stresses that because several risks factors can impact the same individual, approaches to prevention are highly individualized and should be addressed with a primary care physician who can provide a multifactorial falls risk assessment.
 
"Make an appointment specifically to address your concerns of a fall," he advises. "If you have an appointment for another problem and intend to also ask about fall prevention, you may never have time to discuss it with your doctor." 
Overcoming barriers to care
Some people may worry about falls but simply accept it as an unavoidable part of aging. Dr. Rooney insists that it doesn't have to be. By improving modifiable risks factors, the chances of a fall can be greatly decreased. 
However, barriers to care and lack of education often mean that seniors aren't seeking the help they need. Oftentimes, they are not aware that many prevention measures are simple, one-time interventions: remove throw rugs that could cause tripping, install grab bars and non-slip mats in the shower, improve lighting, and trade open-backed slippers for a more secure fit.
In some cases, seniors might assume there isn't a solution available or might not even recognize that it is needed – as is often the case when it comes to improving balance. Balance problems are common in older adults and are one of the leading causes of falls, but because symptoms may not always seem tangible or don't appear consistently, seniors may not seek medical help for occasional dizziness, unsteadiness, or faintness. Furthermore, since balance problems can – much like falls – be caused by a number of different factors and vary situationally, seniors might brush off their concerns or convince themselves it's not important enough to address. Medical professionals, however, recognize that addressing balance can be key to reducing falls in older adults and several programs are already showing promising results. Among these are the CDC's STEADI program in the US and Nymbl's app-based fall prevention solution, which offers users a personalized daily exercise routine that pairs cognitive challenges with simple body movements to improve reflexive balance. 
Other times, seniors might not seek help for fall prevention because they are afraid to admit their health is deteriorating. Open conversations about aging can begin to breakdown some of these stigmas and fears. Dr. Rooney believes that the insurance industry can have a role to play in this conversation by educating policyholders and connecting them with preventative solutions as they age.
How insurers can stand by policyholders
According to the WHO, "every country in the world is experiencing growth in both the size and the proportion of older persons in the population" and by 2050 it is projected that 22% of the world's population will be 60 or older. The report goes on to explain that "the proportion of life in good health has remained broadly consistent, implying that the additional years are in poor health."(6) 
Insurance providers are increasingly prioritizing helping policyholders improve their health and wellness. This means that the industry is uniquely positioned to offer solutions that both raise awareness of and offer preventative solutions for commonly overlooked problems such as falls.
"Given how common falls are, the outcome severity, the opportunity for an intervention to have a sizable impact on the reduction of falls, and the potential to mitigate our policyholders' fears and anxiety regarding a bad outcome, a falls prevention program has great potential," says Dr. Rooney.
At SCOR, we're asking how we can improve the policyholders' quality of life and help seniors maintain their independence. SCOR believes that falls prevention programs have the potential to go a long way, especially those that aim at addressing older adults' fitness and balance.
* * * * * 
(1) World Health Organization, "Ageing and Health," World Health Organization (World Health Organization: WHO, October 4, 2021), https://www.who.int/news-room/fact-sheets/detail/ageing-and-health.
(2) World Health Organization, "Falls," Who.int (World Health Organization: WHO, April 26, 2021), https://www.who.int/news-room/fact-sheets/detail/falls.
(3) World Health Organization, "Falls," Who.int (World Health Organization: WHO, April 26, 2021), https://www.who.int/news-room/fact-sheets/detail/falls.
(4) Spencer L James et al., "The Global Burden of Falls: Global, Regional and National Estimates of Morbidity and Mortality from the Global Burden of Disease Study 2017," Injury Prevention 26, no. 2 (January 15, 2020): injuryprev-2019-043286, https://doi.org/10.1136/injuryprev-2019-043286.
(5)Daniel Newsted et al., "How to Identify Balance Disorders and Reduce Fall Risk," The Journal of Family Practice 71, no. 1 (January 2022), https://doi.org/10.12788/jfp.0332.
(6)World Health Organization, "Ageing and Health," World Health Organization (World Health Organization: WHO, October 4, 2021), https://www.who.int/news-room/fact-sheets/detail/ageing-and-health.