Improving access to borrower's insurance after breast cancer
SCOR has created "Vitae Breast Cancer", a relapse risk calculator
October 29, 2021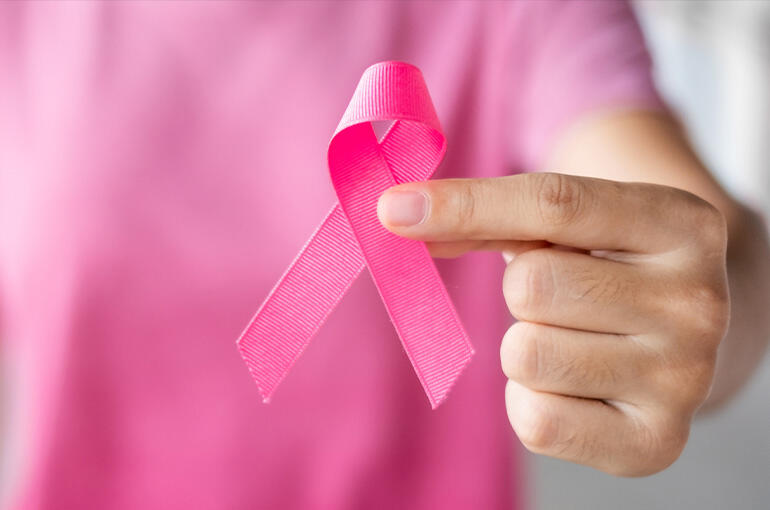 While more and more women are now being cured of breast cancer, they still have trouble obtaining insurance. SCOR has created "Vitae Breast Cancer", a relapse risk calculator. Laurent Rousseau, CEO of SCOR, and Manuel Plisson, Head of biometric risk modelling and inclusive underwriting, explain in an Op-Ed article in L'Argus de l'Assurance.
Every year, Breast Cancer Awareness Day is an opportunity to highlight the considerable progress that has been made in research into breast cancer treatment and prevention. Progress is also needed, however, to help breast cancer survivors return to a normal life after the end of their treatment, and this often gets less attention. This is where the role of insurance companies comes in.
Persistent difficulty in obtaining insurance
Breast cancer is still the most frequent cancer in France, ahead of prostate cancer and colon cancer, but the recovery rate is now greater than it used to be. The five-year survival rate increased from 79% to 89% between cases diagnosed in 1990 and those diagnosed in 2015. This is a major advance. But many women who have been cured of cancer still face obstacles in aspiring to a normal life, in particular those wishing to acquire real estate. After combating the disease, these women struggle to obtain borrower's insurance.
This is because cancer is a complex and heterogeneous pathology. As a result, insurers have historically had great difficulty evaluating the risk associated with it. Until only a few years ago, many breast cancer patients in remission or even considered cured by their own doctors were refused insurance, because the risk of relapse was difficult to model at the time, and insurers preferred to be cautious.
Today, changes in rules and regulations and – perhaps especially – the considerable progress that has been made in understanding the disease, deriving from medical research and data analysis, have widened the scope of insurability for women who have been cured of breast cancer.
The AERAS accord was a major advance
Firstly, the AERAS accord has made significant strides from a regulatory standpoint. Signed in 2006 by the French government, the insurance industry and patient associations, the AERAS accord aims to foster access to insurance for people whose health does not allow them to obtain insurance coverage at standard terms. AERAS has since been amended several times, notably in 2016, when a "clean slate" provision was introduced. This provision stipulates that no information related to a history of cancer can be requested and used by an insurer if the treatment ended more than 10 years earlier (five years for persons under age 21) and if no relapse has occurred. The AERAS accord has thus enabled insurers to offer insurance to people who were previously excluded.
At the same time, epidemiological knowledge of risk factors for cancer relapse and mortality has developed significantly and can be modeled using large databases. An important contribution has come from public databases that include demographic, medical and behavioral information and are, in some cases, freely accessible. The database related to breast cancer is the SEER (Surveillance, Epidemiology and End Results) database, covering nearly 35% of cancer cases in the United States between 1975 and 2018, and containing very specific information about the development of the disease over time (type and location of the tumor, stage at the time of diagnosis, treatment, etc.).
The contribution of data science
Once they are examined with the help of now widely-available data science techniques, such as machine learning, these databases can be used in many ways. Firstly, healthcare professionals, who are now familiar with the use of relapse risk calculators, can create a highly personalized treatment protocol at the time of diagnosis, after modeling the most probable development of the disease on the basis of clinical, histological, molecular, genetic and other factors specific to each individual. Secondly, universities and public entities have made numerous solutions available, free of charge. For instance, the NHS in the United Kingdom has developed the "Predict" calculator with the University of Cambridge. These solutions are now commonly used during doctor visits. 
Similarly, these innovations have led to the development of more inclusive insurance solutions that can now help women who have completed their treatment and want to resume a normal life. Leveraging data and a detailed understanding of the most recent research, (re)insurance companies can now develop calculators that determine relapse and mortality risk for each individual using her breast cancer history and lead to more inclusive financial decisions. Their objective is not so much to reduce the number of rejections as to complement the AERAS accord by offering financial terms appropriate to each person's characteristics.
Clearly, much more needs to be done to enable women who have been cured of breast cancer to return to a normal life. But the knowledge we have is already enabling us to make insurance more inclusive. The use of data will be the key to the future for insurance companies. Technologically, the increase in the volume of data and the development of techniques to interpret it will transform our profession, in contrast to the blind risk pooling of the past, which did not create insurance products that met the needs of society. And strategically, insurance companies will have to constantly ensure that they are contributing to the common good. The health of the planet and its inhabitants is an integral, essential part thereof.
 
Learn more about Vitae Breast Cancer