A short history of Natural Catastrophes in Switzerland
A new SCOR publication looks at Switzerland's Natural Catastrophes from the distant past to the present day and shows how they have impacted the country's insurance landscape
June 4, 2020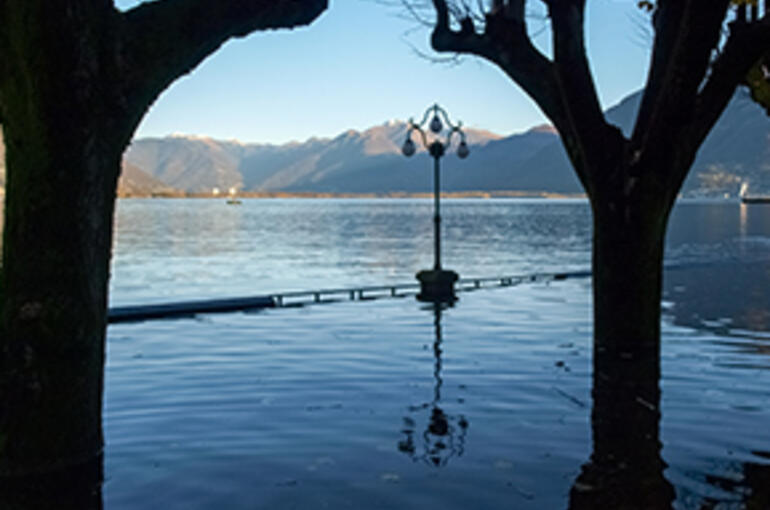 Switzerland has always been impacted by frequent and sometimes very large Natural Catastrophes, which have been and continue to be a source of economic disruption and general social disturbance. Dealing with natural hazards has had a major impact on the way prevention is implemented, the way legislation at cantonal and national levels is shaped, and the insurance landscape overall.
 
In the late middle ages and early modern times, reconstruction after a disaster was primarily managed by families and neighbors. For major damage, communities based their reconstruction efforts on the principles of mutuality and solidarity in the form of labor, cash and natural resources. The former Swiss Confederation also supported victims by liaising with allied towns and regions after major disasters, such as in 1713 after the Stans fire.
 
Since the 19th century, disaster management has also helped to promote integration and national identity. For example, the Goldau rockfall of 1806 marked the first time that all Swiss cantons helped with post-disaster management.
 
In the early 20th century, natural disaster and catastrophe management was institutionalized through the establishment of natural hazard pools working alongside a well-established private market.
 
SCOR has been present in Switzerland for the greater part of the company's 50-year history, providing significant reinsurance capacity to the Swiss market and in particular supporting protection against natural catastrophes. SCOR's ability to diversify such risks on a global scale supports their insurability on a local level, as well as the financial management of catastrophic events. Today, SCOR works in close cooperation with all the major insurance carriers in the Swiss market, including the two natural catastrophe pools that are a key feature of the local insurance landscape.
 
This publication aims to provide a short overview of the natural perils impacting Switzerland, as well as the structure of the Swiss (re)insurance system for Natural Catastrophes.
Authors : 
Maurizio SAVINA, CAT Model R&D Lead, Actuarial Pricing & Catastrophe Risk Management.
 

Maurizio joined SCOR in 2019 as Cat Model R&D Lead and is based in Zurich. His main focus is the design and development of new solutions to optimize SCOR global Cat risk modelling practices. Prior to SCOR, Maurizio spent seven years at RMS, where as Director of Model Product Management he focused on translating (re)insurance market needs into model improvement initiatives. One of his passions is providing insight into risk modelling to optimize client experience and industry understanding of modelling results. Maurizio holds an MSc in Civil Engineering from the Polytechnic University of Turin and a PhD in Hydrology from ETH Zurich.

Patrick BRUNNER, CRO SCOR Switzerland.
 

Patrick joined SCOR in 2003, prior to which he held information technology-related roles in Insurance, Banking and software start up. He has served as Chief Risk Officer for Switzerland and Head of P&C Risk Analysis and Reporting since 2014. He holds a diploma in Business & Computer Science.

Mladen PAVIC, CAT Manager Zurich , Actuarial Pricing & Catastrophe Risk Management.
 

Mladen joined SCOR eight years ago and leads the Zurich Nat Cat Treaty team to support treaty underwriting based in Zurich, by providing operational support for pricing and accumulation. He holds a Master's in Actuarial Sciences and is a member of the Swiss Actuarial Association (SAV).

Michael ROSSI, Senior Underwriter, EMEA.

 

Michael joined SCOR in 2008 as Senior Underwriter / Market Manager TTY P&C. His focus is about providing leadership and coordination in all aspects of the underwriting including strategic book positioning and portfolio management. Michael joined SCOR from RMS in London where he held a position as Product Manager. Prior to this, he spent 4 years with Partner Re focusing on pricing and accumulation support. Michael is a Swiss Citizen and holds a Master of Science (M.Sc.) degree in Geography and an Executive MBA. A native German speaker, he also speaks English and French.