The latest SCOR P&C Technical Newsletter presents a general analysis of the offshore wind sector, as countries around the world become increasingly committed to accelerating the deployment of renewable energy.
The global offshore wind industry is growing at an extraordinary rate, playing a major role in the world's net zero objectives. Still in its early stages, this is an exciting journey, but one that presents multiple challenges.    
Since the first offshore wind farm was inaugurated off the coast of Denmark in 1991, offshore wind farms have become a major source of affordable renewable energy, helping to decarbonize economies and tackle global warming worldwide.    
Since the beginning of the last decade, the growth of offshore wind farms has been exponential, with several large new developments coming online every year. By the end of 2020, a total of 35.3 GW of offshore wind farm capacity had been installed globally, with Europe as the leading market and China catching up fast.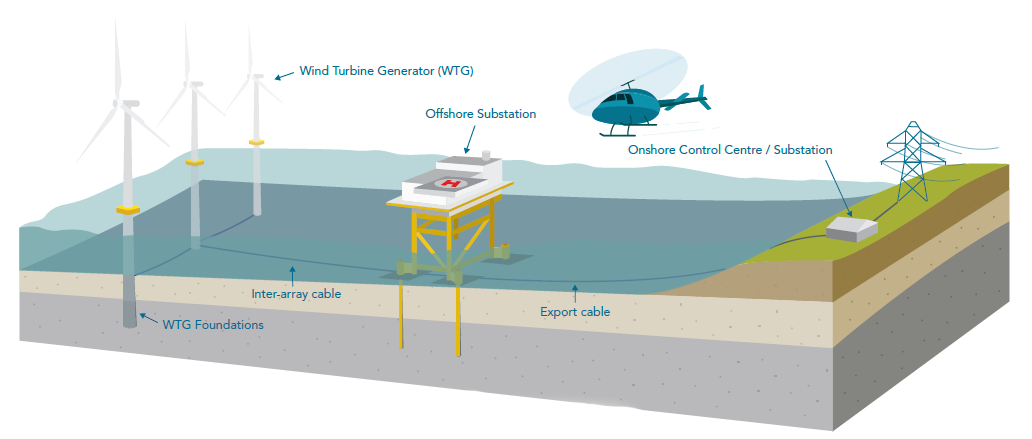 The role of insurance in offshore wind
Insurance plays a key role in offshore wind farm engineering projects. There are two main reasons for this. First, new technologies – in terms of turbine size, power cable output, foundation design, and so on - have enabled wind farm developers to lower their costs. However, new technologies also represent a risk in terms of possible higher failure rates and unplanned downtime. Second, as offshore wind farms increase in size, new investors are needed to provide financial support. These investors are looking for steady returns on their investments and have a very low appetite for any project risk. So, there is a trade-off between pushing for innovation to lower costs and satisfying entrepreneurs taking technological risks. Insurance cover decreases a project's exposure to risk.
This latest P&C Technical Newsletter aims to give a broad overview of offshore wind farms, looking at their history, the main components and development of a typical wind farm project, the current market situation, the finance models involved, and the role played by insurance.
The energy transition is a pathway towards the transformation of the global energy sector, with ambitious targets by the second half of this century. At SCOR, we are firmly committed to supporting and promoting this transition and have the necessary resources to do so.