Launch of 'Heat Stress Protect' insurance to protect dairy income from climate change
September 15, 2021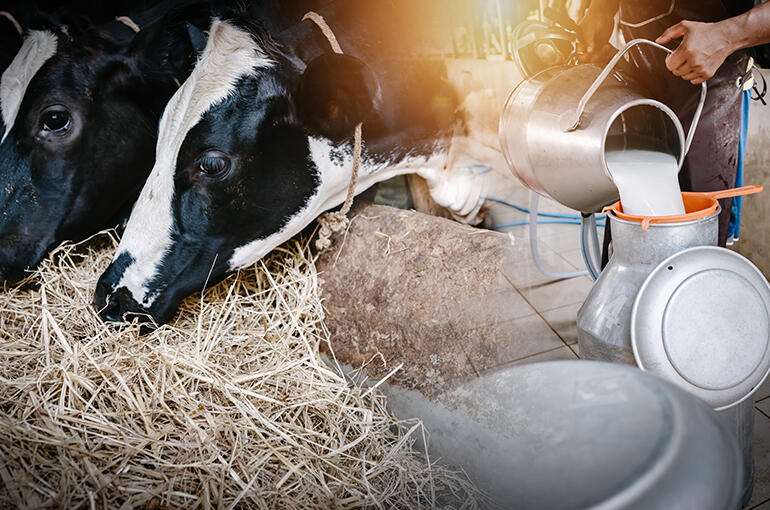 SCOR has brought its longstanding expertise in the technical development of a parametric insurance solution launched by the digital farming company ITK.
SCOR has entered a partnership with French digital farming company ITK and with Skyline Partners, a parametric insurance specialist based in UK, to launch an insurance product, "Heat Stress Protect". It enables dairy farmers and milk collecting companies to protect themselves against economic losses due to heat waves.
In recent years, hot summers have had negative impacts on a large proportion of dairy herds and the whole dairy industry. Heat stress has both short-term and long-term effects on farm profitability: lower milk production and reduced quality, higher production costs, and prolonged effects on animal health.
ITK and Skyline Partners have designed and developed Heat Stress Protect is the first ever climate insurance to protect dairy farmers against economic losses due to heat stress in livestock. It is based on an index calculation of economic losses when temperature and humidity conditions are unfavorable for the herd. With Heat Stress Protect, farmers receive financial compensation in the event of an exceptionally hot year. 
SCOR has brought its longstanding expertise in the technical development of the insurance solution. This parametric insurance is automatic, simple, and transparent. Heat Stress Protect automatically retrieves the gridded third-party weather data at the farm micro region level and notifies the farmer if the conditions are met to receive compensation at the end of the year. Skyline Partners' expertise allows the terms of the guarantee and the calculation of compensation to be delivered using the index, which is automated using their INDEX technology and enables index insurance solutions to be deployed at scale globally and to monitor claims based on the local conditions of the farm. 
In 2021, ITK has embedded Heat Stress Protect in its Farmlife® herd monitoring system to benefit 50,000 connected cows in France. It comes with additional services to help farmers predict heat stress, proactively adapt their management, and to measure their farm's resilience to this risk.
With Heat Stress Protect, cooperatives or dairy groups can provide their producers with a new service associated with a financial warranty to differentiate themselves on the increasingly pressing issue of climate change.
"ITK has built a worldwide reputation by developing advanced technologies for the performance and sustainability of agricultural production. This partnership allows us to combine our strengths, to support agriculture in its resilience and efficiency," says Bennet Holmes, Director of Business Development of ITK, who adds "With this partnership, we are definitely entering the Insurtech market with an offer that has no equivalent in the world in the field of agricultural weather insurance, and that protects farmers and the entire industry."

Fanny Rosset, Senior Underwriter Agriculture at SCOR, comments: "SCOR is excited to contribute to this collaboration which is a perfect example of SCOR's ability to share and leverage its industry-recognized expertise in agriculture with the goal to contribute to the welfare and resilience of society"

"Skyline is thrilled to work with ITK and provide an innovative solution to a global growing heat stress concern", say Laurent Sabatie and Gethin Jones, Co-founders of Skyline Partners, who also add "This product is the demonstration of Skyline's index insurance structuring capabilities. We are proud to help industry leaders like ITK to seamlessly embed index insurance, and create new revenue stream, whilst helping closing cover gaps."

About ITK
ITK is a world pioneer in agri-intelligence: business intelligence for agriculture. With more than 500,000 hectares managed with its decision support solutions and 300,000 connected cows, ITK is specialized in the development of digital services for the performance of agricultural production and the sustainability of supply chains. Itk's offer includes decision support tools, prediction and risk management services in agriculture, as well as services to promote sustainable farming. The ITK group has a turnover of 10 million euros with a workforce of 120 people in the South of France, Brittany and California (USA).

About Skyline Partners
Skyline Partners is an award winning InsurTech company, specialising in index insurance. Skyline provides structuring, underwriting and calculation services. Powered by INSDEX® parametric technology, Skyline supports insurance companies and other industries to embed index solutions and create new revenue streams. Skyline is operating globally, with partners in the US, Europe, UK and Latin America.
 
CONTACT
OUR EXPERT
Job title
Senior Underwriter Agriculture