Protecting Farmers from Climate Change Risk in Fiji
SCOR collaborates on the South Pacific's first parametric microinsurance cover against climate change
November 22, 2022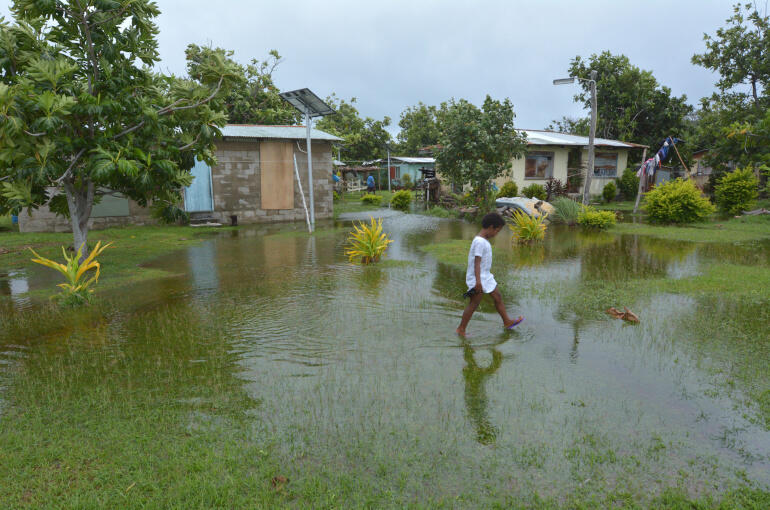 Our Earth is experiencing rapid changes due to global warming, and we are witnessing the direct impact on human lives in every corner of the globe. As the risks linked to climate change increase, SCOR continues its commitment to supporting the resilience and sustainable development of societies and agriculture around the world. We know that our success in this regard depends on strong partnerships, with people and organizations who share our mission of bridging the protection gap and expanding the frontiers of insurability. One such partnership is currently bearing fruit in the middle of the South Pacific Ocean, on the island nation of Fiji. 
Improving climate change resilience and supporting disaster risk management is a key objective of the United Nations in the Pacific. In this regard, SCOR has been involved since 2021 in the collaborative development and rollout of the region's first parametric insurance solution, which aims to protect local farmers against the risk of cyclones and torrential rainfall. The solution was developed under the Pacific Insurance and Climate Adaptation Programme (PICAP) of the United Nations Capital Development Fund (UNCDF), in a partnership between UNCDF, the UN University Institute for Environment and Human Security, the Pacific Office of the United Nations Development Programme, Weather Risk Management Services Pvt. Ltd. (WRMS) India, local insurers, and SCOR. Following a successful rollout last year, UNCDF has expanded the scope of the solution in 2022, introducing two new parametric microinsurance products to the market in August. Designed for Fiji's most vulnerable communities, one of these products is aimed at farmers, fishers, market vendors and small businesses, while the other targets social welfare recipients who rely heavily on government support after extreme weather events. The latter product will be rolled out in collaboration with the Fijian Ministry of Women, Children and Poverty Alleviation and the UN World Food Programme. Before the 2022-2023 cyclone season begins, the UNCDF hopes to sign up more than 4,000 beneficiaries (compared to 1,388 in 2021) through two local insurance partners. Both of these – FijiCare and Sun Insurance – are supported by SCOR. 
Furthermore, given the successful implementation of the product in Fiji, the expansion in other Pacific islands is already underway. The product launch in Vanuatu was completed in October and the launch in Tonga is currently underway, expanding the coverage to even more vulnerable communities in the region.
Swapnil Soni, Senior Underwriter and Market Manager for Agricultural Reinsurance at SCOR, has a long-term vision for the project: "The products in the initial phase focus on farmers and other vulnerable communities in Fiji. But the plan is to gradually roll them out to other sectors and geographies in the Pacific. Such products would not only support individuals at the grassroots level against increasing incidences of Nat Cat events, but also ensure strong resilience after an incident has occurred."  
Protecting vulnerable communities through innovation and collaboration 
There is a strong element of innovation involved in the initiative. Designed by leading climate and agriculture risk management company WRMS India, the parametric products are based on a novel index that monitors both cyclone intensity and distance from the eye of the storm. Indemnities are calculated using the cyclonic tracks published in real time by the National Oceanic and Atmospheric Administration (NOAA). This reduces dependence on satellite-based weather data – which comes with a time lag – and makes the indemnity payout very quick, thereby reducing farmers' immediate dependence on the government for post-disaster relief. Additional protection against torrential rainfall enhances cover for the community. 
Anuj Kumbhat, CEO of WRMS, comments: "With the backing of strong partners like SCOR, we have got the flexibility to innovate on parametric insurance solutions that can address key climate risks of vulnerable communities in the Pacific Island countries. It has been a great experience for us to be able to successfully design and pilot the Cyclone Index Insurance and assist UNCDF in its efforts to improve the financial preparedness of Pacific islanders through the Pacific Insurance and Climate Adaptation Program (PICAP)."
Agriculture is a key element of Fiji's economy and society, especially after the Covid-19 pandemic hit the country's tourism industry hard. Home to around one million residents across more than 300 islands, Fiji is prone to tropical cyclones, exposing small farmers to high financial volatility and uncertainty. In 2016, Cyclone Winston was Fiji's worst natural disaster on record, taking lives, destroying homes and livelihoods, and costing USD 1.6 billion. It caused devastating damage to the nation's sugar crop, a major component of the economy. Although Fiji has made a steady recovery since then, many farmers are still under-protected. Of the 320 farmers in Fiji and 95 in Vanuatu surveyed by UNCDF last year, more than 70% said they relied on savings, bank loans or financial support from family and friends for disaster recovery rather than buying adequate insurance protection. That's why this microinsurance program could have a significant impact on the stability of the Fijian economy.
Krishnan Narasimhan, Global Lead Specialist (Climate Disaster Risk Insurance) at UNCDF, comments: "Through a market systems development approach, UNCDF has enabled national and global partnerships to fill a significant market gap in developing and deploying the Pacific region's first ever market-based parametric microinsurance product covering small holder farmers, fishers, market vendors and small businesses. The support of SCOR has been crucial in this initiative as they have provided the reinsurance capacities to local insurers who have made available such innovative risk transfer solutions. And UNCDF now has ambitions of growing the CDRI programme beyond the Pacific and we look forward to continuing our engagement with SCOR." 
Avi Raju, Executive Director of FijiCare, adds: "FijiCare has been a pioneer in introducing innovative microinsurance schemes in Fiji and for us it was a natural extension to offer parametric insurance products as well. Reinsurance support from SCOR gave us confidence to venture into a hitherto uncharted territory in the region, and we hope to continue building on this relationship as we expand to other Pacific countries." 
SCOR has a long history of providing reinsurance protection to underserved small markets through collaborative partnerships, and this program is no exception. We believe that with the power of knowledge, technology and partnerships, we can bridge the widening natural catastrophe protection gap and provide solutions that fight climate change and protect people and society.  
CONTACT
Job title
Market Manager India & Africa, P&C