SCOR launches dedicated New Energy Practice to support the Energy Transition
September 21, 2023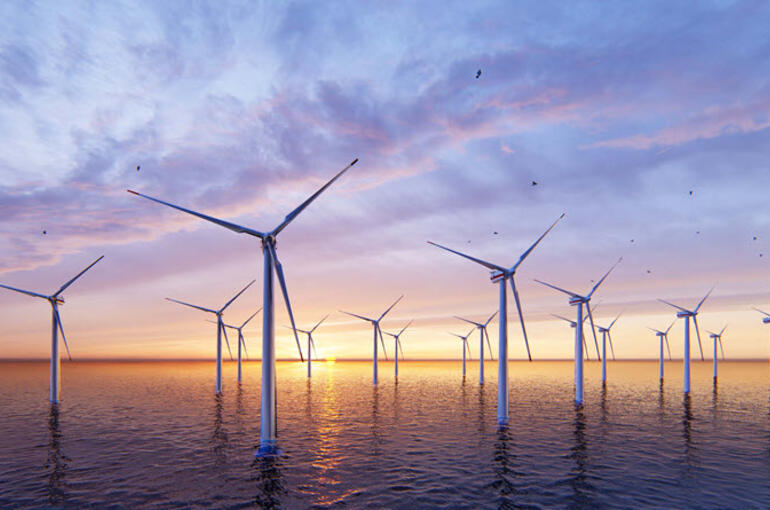 A one-stop-shop for ongoing energy transition needs
A longstanding participant of the United Nations Global Compact and a founding signatory of the Principles for Sustainable Insurance, SCOR is firmly committed to climate protection and accelerating the energy transition. The Group joined the Climate Transition Pathway accreditation framework in 2021 and integrates ESG on both sides of its balance sheet, supporting the energy transition through its underwriting and investment policies. 
SCOR took this support a step further in September 2023, implementing the sustainable underwriting commitments on gas, Arctic oil & gas, oil sands and coal announced at its May AGM, and setting additional sustainability targets as part of its new Forward 2026 strategic plan. These include multiplying insurance and facultative reinsurance cover for low carbon energy by 3.5 by 2030, and, over the next three years, engaging with clients representing at least 30% of SCOR Specialty Insurance Single Risk premium regarding their ESG commitments and transition strategy.
Building on these sustainable underwriting measures, SCOR is now further supporting the energy transition with the launch, within Specialty Insurance, of a dedicated New Energy Practice, designed to be a one-stop-shop for the ongoing energy transition needs of existing and potential clients throughout the world. 
The New Energy Practice incorporates a broad spectrum of SCOR's integrated insurance products and customized risk management solutions, providing protection for a wide range of low carbon technologies and ventures. These include offshore and onshore wind farms, solar farms, interconnectors, hydrogen, carbon capture, biofuels, and batteries.
The New Energy Practice leverages the local know-how and global reach of the Group's underwriting, risk engineering and claims experts across multiple lines of business, with a focus on creating long-term partnerships. 
SCOR understands the unique requirements of clients in the new energy field, including the need for financial security and risk mitigation throughout the life cycle of a project. By providing end-to-end coverage – from project financing, original equipment manufacturing and credit risk transfer to project construction, operation, and decommissioning – the New Energy Practice ensures that the Group's clients are protected at every stage of their energy transition journey.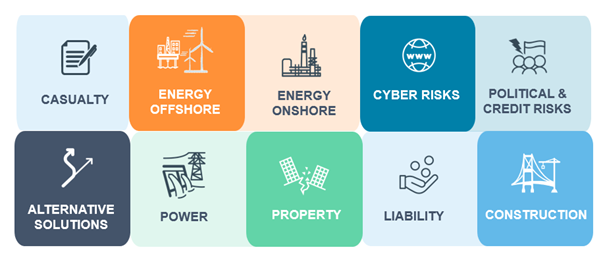 Construction Insurance 
New energy project developers and contractors need coverage throughout the construction phase to proceed confidently, knowing they are protected from unforeseen events that could disrupt construction timelines and increase costs. The highly technical dimension of those projects requires specific expertise to design covers that safeguard against risks such as material and equipment damage, construction delays, and third-party liability.
Property Insurance
Operators of critical new energy assets need to ensure that their energy generation capabilities remain uninterrupted, and to mitigate potential financial losses in the event of perils such as fire, natural disasters, and equipment failures. 
Liability Insurance 
Liability risks are inherent in the energy transition sector, with claims arising from bodily injury, property damage, and environmental pollution. Insureds need protection against legal and financial liabilities to peacefully navigate the complexities of the industry. 
Political and Credit Risk Insurance 
Addressing the uncertainties associated with the energy transition, new energy-related project owners face risks such as expropriation, political instability, contract frustration, and payment default. The impact of unforeseen political or economic events on their projects can be mitigated by a well-designed cover that ensures financial security. 
Cyber Insurance 
In an increasingly digitalized energy landscape, data breaches, system failures, and cyber-attacks represent significant threats. With coverage for potential financial losses, regulatory fines and reputational damage in place, insureds can navigate the evolving cyber risk universe and maintain the operational resilience of new energy projects. 
Alternative Risk Transfer Solutions 
Innovative risk transfer mechanisms have a key role to play in the energy transition. Through alternative risk transfer solutions such as parametric insurance and catastrophe bonds, clients can manage specific risks more efficiently. These solutions offer flexibility and tailored coverage, in line with clients' unique needs. 
As the energy industry continues to evolve, SCOR Specialty Insurance's New Energy Practice empowers clients to navigate the risks and opportunities of this transformative era, and reinforces the Group's position as a reliable long-term partner in the transition to a more sustainable future.
CONTACT
OUR EXPERTS
Job title
New Energy Practice Head Specialty Insurance