SCOR SE India Branch
Financial and regulatory information about SCOR's branch in India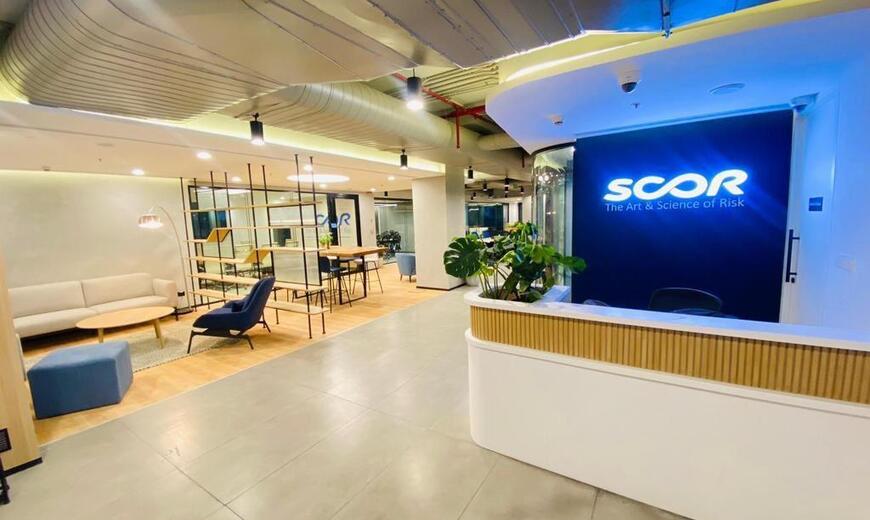 Body
Headquartered in Paris, France, SCOR SE is a Tier 1 reinsurance company providing Property and Casualty and Life and Health reinsurance solutions to its clients in more than 160 countries. As the world's fourth largest reinsurer, SCOR provides insurance companies with a diversified and innovative range of solutions and services to control and manage risk, balancing a global presence with industry-recognized expertise and cutting-edge financial solutions. SCOR has been writing business with Indian clients since 1973 and established a liaison office in India in 2005. 
In 2016, SCOR achieved a new milestone in its application to open a composite branch office in India, demonstrating the Group's commitment to the Indian market and to the continued provision of services to its clients in the country. 
The P&C business unit of SCOR has developed strong business relationships in India, providing treaty and facultative solutions to its clients there. Moreover, it is actively working with its clients to develop specialty covers, notably on the agriculture and credit portfolios. SCOR also has a longstanding presence in the Indian life reinsurance market, building on its strong local critical illness and life expertise. 
SCOR SE – India Branch is committed to enhancing its local resources in order to provide its Indian clients with tailor-made reinsurance solutions.
 
Financial Year April 2022 – March 2023
Financial Year April 2021 – March 2022
Financial Year April 2020 - March 2021
Accordion
Financial disclosures NL 1 to NL 20
|   | Documents | Web |
| --- | --- | --- |
| NL1 | Revenue Account | View |
| NL2 | Profit & Loss Account | View |
| NL3 | Balance Sheet | View |
| NL4 | Premium | View |
| NL5 | Claims incurred | View |
| NL6 | Commission | View |
| NL7 | Operating Expenses | View |
| NL8 | Share Capital | View |
| NL9 | Pattern of Shareholding | View |
| NL10 | Reserves and Surplus | View |
| NL11 | Borrowings | View |
| NL12 | Investment | View |
| NL13 | Loans | View |
| NL14 | Fixed Assets | View |
| NL15 | Cash And Bank Balance | View |
| NL16 | Advances & Other Assets | View |
| NL17 | Current Liabilities | View |
| NL18 | Provisions | View |
| NL19 | Misc Expenditure | View |
| NL20 | Receipts & Payment Statement | View |
Other disclosure NL 21 to NL 41
| NL Number | NL Name | Link |
| --- | --- | --- |
| NL21 | Statement of Liabilities | View |
| NL22 | Geographical Distribution of Business | View |
| NL23 | Reinsurance Risk Concentration | View |
| NL24 | Ageing of Claims | View |
| NL25 | Claims Data | View |
| NL26 | Claims information | View |
| NL27 | Offices | View |
| NL28 | Statement of Investment of Assets | View |
| NL29 | Debt Securities | View |
| NL30 | Analytical Ratios | View |
| NL31 | Related Party Transactions | View |
| NL32 | Product Information | View |
| NL33 | Solvency | View |
| NL34 | Board of Directors & Management | View |
| NL35 | NPAs | View |
| NL36 | Yield on Investment | View |
| NL37 | Downgrading of Investment | View |
| NL38 | Quarterly Business Returns for different of business | View |
| NL39 | Rural & Social Sector Obligations | View |
| NL40 | Business acquisition throught different channels | View |
| NL41 | Grievance Disposal | View |
Financial Year April 2019 - March 2020
Accordion
Financial disclosures NL 1 to NL 20
|   | Documents | Web |
| --- | --- | --- |
| NL1 | Revenue Account | View |
| NL2 | Profit & Loss Account | View |
| NL3 | Balance Sheet | View |
| NL4 | Premium | View |
| NL5 | Claims incurred | View |
| NL6 | Commission | View |
| NL7 | Operating Expenses | View |
| NL8 | Share Capital | View |
| NL9 | Pattern of Shareholding | View |
| NL10 | Reserves and Surplus | View |
| NL11 | Borrowings | View |
| NL12 | Investment | View |
| NL13 | Loans | View |
| NL14 | Fixed Assets | View |
| NL15 | Cash And Bank Balance | View |
| NL16 | Advances & Other Assets | View |
| NL17 | Current Liabilities | View |
| NL18 | Provisions | View |
| NL19 | Misc Expenditure | View |
| NL20 | Receipts & Payment Statement | View |
Other disclosure NL 21 to NL 41
| NL Number | NL Name | Link |
| --- | --- | --- |
| NL21 | Statement of Liabilities | View |
| NL22 | Geographical Distribution of Business | View |
| NL23 | Reinsurance Risk Concentration | View |
| NL24 | Ageing of Claims | View |
| NL25 | Claims Data | View |
| NL26 | Claims information | View |
| NL27 | Offices | View |
| NL28 | Statement of Investment of Assets | View |
| NL29 | Debt Securities | View |
| NL30 | Analytical Ratios | View |
| NL31 | Related Party Transactions | View |
| NL32 | Product Information | View |
| NL33 | Solvency | View |
| NL34 | Board of Directors & Management | View |
| NL35 | NPAs | View |
| NL36 | Yield on Investment | View |
| NL37 | Downgrading of Investment | View |
| NL38 | Quarterly Business Returns for different of business | View |
| NL39 | Rural & Social Sector Obligations | View |
| NL40 | Business acquisition throught different channels | View |
| NL41 | Grievance Disposal | View |
Financial Year April 2018 - March 2019
Accordion
Financial disclosures NL 1 to NL 20
|   | Documents | Web |
| --- | --- | --- |
| NL1 | Revenue Account | View |
| NL2 | Profit & Loss Account | View |
| NL3 | Balance Sheet | View |
| NL4 | Premium | View |
| NL5 | Claims incurred | View |
| NL6 | Commission | View |
| NL7 | Operating Expenses | View |
| NL8 | Share Capital | View |
| NL9 | Pattern of Shareholding | View |
| NL10 | Reserves and Surplus | View |
| NL11 | Borrowings | View |
| NL12 | Investment | View |
| NL13 | Loans | View |
| NL14 | Fixed Assets | View |
| NL15 | Cash And Bank Balance | View |
| NL16 | Advances & Other Assets | View |
| NL17 | Current Liabilities | View |
| NL18 | Provisions | View |
| NL19 | Misc Expenditure | View |
| NL20 | Receipts & Payment Statement | View |
Other disclosure NL 21 to NL 41
| NL Number | NL Name | Link |
| --- | --- | --- |
| NL21 | Statement of Liabilities | View |
| NL22 | Geographical Distribution of Business | View |
| NL23 | Reinsurance Risk Concentration | View |
| NL24 | Ageing of Claims | View |
| NL25 | Claims Data | View |
| NL26 | Claims information | View |
| NL27 | Offices | View |
| NL28 | Statement of Investment of Assets | View |
| NL29 | Debt Securities | View |
| NL30 | Analytical Ratios | View |
| NL31 | Related Party Transactions | View |
| NL32 | Product Information | View |
| NL33 | Solvency | View |
| NL34 | Board of Directors & Management | View |
| NL35 | NPAs | View |
| NL36 | Yield on Investment | View |
| NL37 | Downgrading of Investment | View |
| NL38 | Quarterly Business Returns for different of business | View |
| NL39 | Rural & Social Sector Obligations | View |
| NL40 | Business acquisition throught different channels | View |
| NL41 | Grievance Disposal | View |
Financial Year April 2017 - March 2018
Accordion
Financial disclosures NL 1 to NL 20
|   | Documents | Web |
| --- | --- | --- |
| NL1 | Revenue Account | View |
| NL2 | Profit & Loss Account | View |
| NL3 | Balance Sheet | View |
| NL4 | Premium | View |
| NL5 | Claims incurred | View |
| NL6 | Commission | View |
| NL7 | Operating Expenses | View |
| NL8 | Share Capital | View |
| NL9 | Pattern of Shareholding | View |
| NL10 | Reserves and Surplus | View |
| NL11 | Borrowings | View |
| NL12 | Investment | View |
| NL13 | Loans | View |
| NL14 | Fixed Assets | View |
| NL15 | Cash And Bank Balance | View |
| NL16 | Advances & Other Assets | View |
| NL17 | Current Liabilities | View |
| NL18 | Provisions | View |
| NL19 | Misc Expenditure | View |
| NL20 | Receipts & Payment Statement | View |
Other disclosure NL 21 to NL 41
| NL Number | NL Name | Link |
| --- | --- | --- |
| NL21 | Statement of Liabilities | View |
| NL22 | Geographical Distribution of Business | View |
| NL23 | Reinsurance Risk Concentration | View |
| NL24 | Ageing of Claims | View |
| NL25 | Claims Data | View |
| NL26 | Claims information | View |
| NL27 | Offices | View |
| NL28 | Statement of Investment of Assets | View |
| NL29 | Debt Securities | View |
| NL30 | Analytical Ratios | View |
| NL31 | Related Party Transactions | View |
| NL32 | Product Information | View |
| NL33 | Solvency | View |
| NL34 | Board of Directors & Management | View |
| NL35 | NPAs | View |
| NL36 | Yield on Investment | View |
| NL37 | Downgrading of Investment | View |
| NL38 | Quarterly Business Returns for different of business | View |
| NL39 | Rural & Social Sector Obligations | View |
| NL40 | Business acquisition throught different channels | View |
| NL41 | Grievance Disposal | View |
Financial Year April 2016 - March 2017
Accordion
Financial disclosures NL 1 to NL 20
|   | Documents | Web |
| --- | --- | --- |
| NL1 | Revenue Account | View |
| NL2 | Profit & Loss Account | View |
| NL3 | Balance Sheet | View |
| NL4 | Premium | View |
| NL5 | Claims incurred | View |
| NL6 | Commission | View |
| NL7 | Operating Expenses | View |
| NL8 | Share Capital | View |
| NL9 | Pattern of Shareholding | View |
| NL10 | Reserves and Surplus | View |
| NL11 | Borrowings | View |
| NL12 | Investment | View |
| NL13 | Loans | View |
| NL14 | Fixed Assets | View |
| NL15 | Cash And Bank Balance | View |
| NL16 | Advances & Other Assets | View |
| NL17 | Current Liabilities | View |
| NL18 | Provisions | View |
| NL19 | Misc Expenditure | View |
| NL20 | Receipts & Payment Statement | View |
Other disclosure NL 21 to NL 41
| NL Number | NL Name | Link |
| --- | --- | --- |
| NL21 | Statement of Liabilities | View |
| NL22 | Geographical Distribution of Business | View |
| NL23 | Reinsurance Risk Concentration | View |
| NL24 | Ageing of Claims | View |
| NL25 | Claims Data | View |
| NL26 | Claims information | View |
| NL27 | Offices | View |
| NL28 | Statement of Investment of Assets | View |
| NL29 | Debt Securities | View |
| NL30 | Analytical Ratios | View |
| NL31 | Related Party Transactions | View |
| NL32 | Product Information | View |
| NL33 | Solvency | View |
| NL34 | Board of Directors & Management | View |
| NL35 | NPAs | View |
| NL36 | Yield on Investment | View |
| NL37 | Downgrading of Investment | View |
| NL38 | Quarterly Business Returns for different of business | View |
| NL39 | Rural & Social Sector Obligations | View |
| NL40 | Business acquisition throught different channels | View |
| NL41 | Grievance Disposal | View |
Body

SCOR SE India Branch
6th Floor, No. 63, North Avenue 2, Maker Maxity, Bandra-Kurla Link Road,
Bandra-Kurla Complex, Bandra (East),
400051 Mumbai
Tel.: +91 22 6116 3900